When we went to MIT last year with @yeltakom and @tomas we witnessed a conference called CLIMATE CHANGED, on which we learned about the history of different mathematical and numerical models that have helped humanity better understand how we live and interact with our planet. I first learnt about the book "The limits to growth" by The Club of Rome. According to a NY Times critique from 1972, the year it was published,
Either civilization or growth must end, and soon. Continued population and industrial growth will exhaust the world's minerals and bathe the biosphere in fatal levels of pollution. As the authors summarize, "if the present growth trends… continue unchanged, the limits of growth on this planet will be reached sometime within the next hundred years."
Now the interesting thing is we have data from the last 40 years. And what happened? This 5 year old article from the The Guardian summarizes quite well:
Limits to Growth was right. New research shows we're nearing collapse. Four decades after the book was published, Limit to Growth's forecasts have been vindicated by new Australian research. Expect the early stages of global collapse to start appearing soon.
So let's have a look at a couple of graphs. First, what they predicted: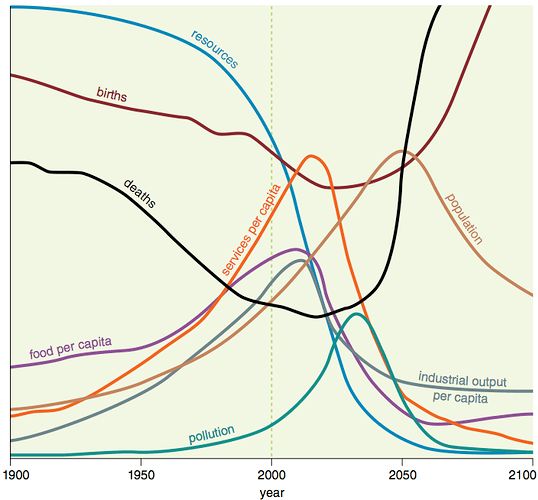 Graph source: https://eganhistory.com/2012/03/16/the-limits-to-growth/
Now let's compare their predictions with what happened in 40 years after their study: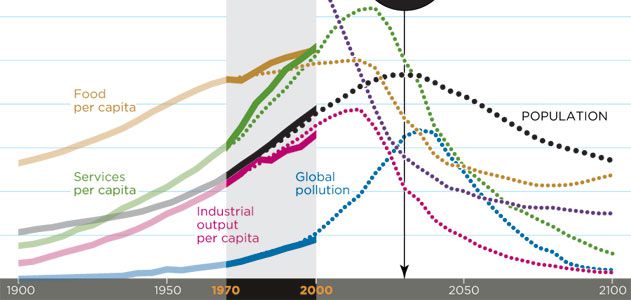 Graph Source: https://www.smithsonianmag.com/science-nature/looking-back-on-the-limits-of-growth-125269840/
How do we respond to this? It seems that our best chances are dramatically reducing our carbon footprint.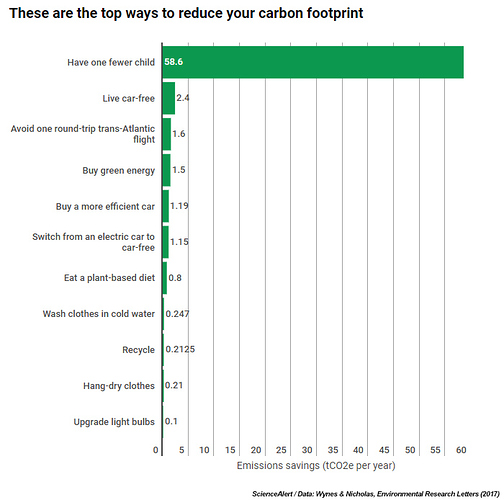 Graph Source: https://iopscience.iop.org/article/10.1088/1748-9326/aa7541/meta
As a final comment my wish is to bring attention to this concept that we can live on planet earth ever growing, ever consuming, ever addicted to fossil fuels. I would like to propose a few questions about how we live on earth right now, and hopefully get some interaction on this topic.
What everyday actions can we take to reduce our carbon footprint?
What events or technological developments could actually change a global collapse scenario?