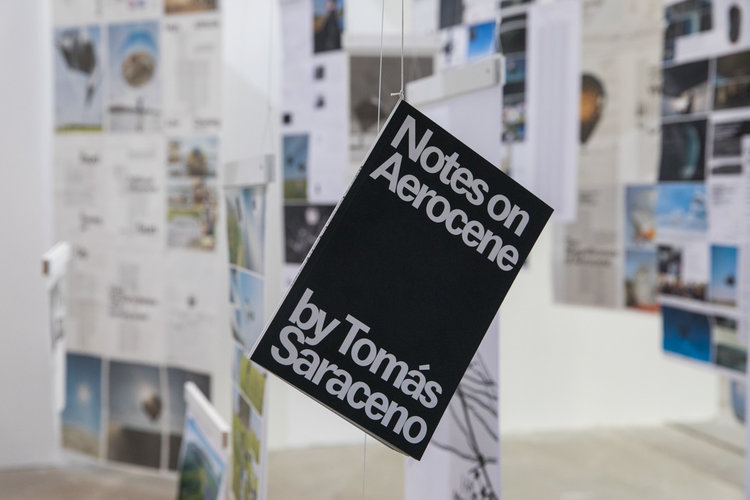 Calling for an inter-species right to mobility, a new interplanetary ecology of practice which could reconnect with elemental sources of energy and strata coming from the sun and other planets, breaking the boundaries of the sublunary, join the Aerocene community for a symposium of Nomadic Talks at Palais de Tokyo, a series of conversations introduced by Rebecca Lamarche-Vadel and Tomás Saraceno. Moderated by Sasha Engelmann. With: Primavera de Filippi, Samuel Hertz, Karine Léger, Stavros Katsanevas, Derek McCormack, Tomás Saraceno, Nick Shapiro, Débora Swistun, Marie Thébaud-Sorger, Jol Thomson and Heinz Wismann. These talks have been curated by Sasha Engelmann.
The conversations will be enhanced with an additional program of workshops and flights.
>> Program
3.20 PM - Villa Inflamable
Débora Swistun, Nick Shapiro and Karine Léger
The Aerocene Symposium begins with a conversation between anthropologist Débora Swistun and researcher / scientist Nick Shapiro concerning the relations between Aerocene, activism, environment and community initiatives in Villa Inflammable, Buenos Aires. Through the efforts of Aerocene Community questions have emerged around community-based science and the measurement of exposure; the underlying infrastructures perpetuating the condition of Inflammable; and the role of Aerocene in the context of the complex history of environmental justice struggles of the Matanza-Riachuelo River. Débora and Nick will be joined in the discussion by Karine Léger, the managing director of AirParif, an organization responsible for monitoring the air quality in Paris and surrounding areas.
4.15 PM - Aerocene Governance and Constitution
Primavera de Filippi and Tomás Saraceno
Are there resources or opportunities in blockchain platforms, token-based economies and new digital currencies for growing and sustaining the Aerocene community? How can the Aerocene community decentralize its infrastructure while maintaining a code of values and ethics? These questions will be considered by artist Tomás Saraceno and legal scholar Primavera De Filippi in a conversation on Aerocene governance.
5.10 PM Aero-Acoustics: an Interlude
Sam Hertz with Participants of Aero-Acoustics Workshop
Facilitated by composer/researcher Samuel Hertz and researcher Sasha Engelmann, the "Aero-Acoustics" workshop has invited to exploratory listening, sounding, moving and questioning related to the sonic materiality of air. Taking place on the grounds of the Palais de Tokyo – along with external site-based experiments and derivations – Aero-coustics participants will engage in various ways of knowing, listening, and being-with sonic atmospheres, here performed to the symposium participants.
5.45 PM - Elemental Encounters
Marie Thébaud Sorger and Derek McCormack
In the 18th and 19th centuries, air became an 'object' for scientists and citizens alike. From experiments with diaphragms and pneumatic chambers, to ventilators and the human respiratory system, citizen-experimenters produced new forms of knowledge on the complex physics and chemistry of the air. What was once deemed 'vacuous' or 'empty' was rendered an elemental 'matter of concern'. This conversation between historian of science Marie Thébaud-Sorger and human geographer Derek McCormack will take an elemental approach to the air, asking how an elemental mode of thinking and practicing can attune us to air's forces, complexities, vorticities and affects.
6.40 PM - Behind the Sun
Stavros Katsanevas and Heinz Wismann,
moderated by Jol Thomson
Cosmic dust and cosmic rays, magnetic particles, meteor fragments, radioactive elements and electromagnetic frequencies: the air is full of traces, materials and phenomena of cosmological origin and scope. The Aerocene engages with these phenomena at the limit and beyond human perceptual awareness. At the same time Aerocene proposes different modes of engaging with air's cosmic forces through the propagation of sonic vibrations, tuning to the trajectory of a solar eclipse, and floating with infrared radiation. Astrophysicist Stavros Katsanevas, Director of the European Gravitational Observatory, will discuss these and other im/perceptible matters of air with philosopher and hermeneuticist Heinz Wismann. The conversation will be moderated by artist and researcher Jol Thomson.
7.20 PM - Closing Remarks
Sasha Engelmann with Tomas Saraceno and Rebecca Lamarche-Vadel
9 PM - MOON BOUNCE
Alvin Lucier
Alvin Lucier, a pioneer of experimental music, imagines two new pieces inspired by conversations with Tomás Saraceno about inter-species communication with spiders, and sending signals to the Moon, using the "Moon Bounce" radio-communications technique. During this performance, Alvin Lucier will have a dialogue with a spider/web. Then, Alvin Lucier's heartbeat will be picked up by a special sensor, routed through the silk strings of a Qin —an ancient Chinese stringed instrument—and transmitted to the Moon. It takes approximately two-and-a-half seconds for each heartbeat to bounce back to Earth, depending on the irregularities on the surface of the Moon. These reverberating sounds echo a cosmic jam session.